ABA's member magazine
for parents, supporters and health professionals.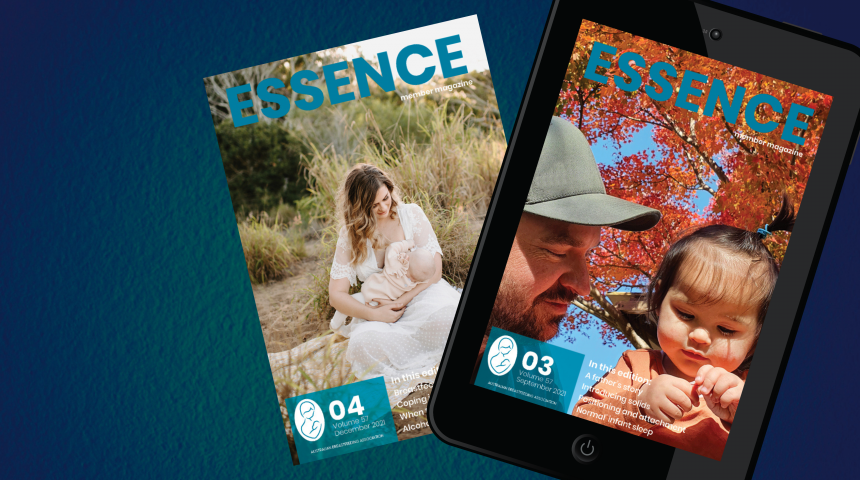 Essence is ABA's quarterly member magazine. It features up-to-date information on a range of breastfeeding and early parenting topics, real-life stories, reviews, tips and practical ideas.
You can receive Essence magazine four times a year by becoming an ABA personal member. Choose from a digital copy straight to your inbox or a printed copy to your door.
Members can access past editions via the Essence archive in My ABA.
---
Do you work with pregnant women or new parents?
Essence is also suitable for health professionals who would like to keep up-to-date with the information parents are receiving. It is a great way to meet your Baby Friendly Health Initiative commitments and to support the joint WHO/UNICEF statement: Ten Steps to Successful Breastfeeding.
Personal access to Essence is included in your professional membership.
You can also order Essence in bulk amounts of 10, 20 or 50 copies per issue.  Provide copies for your patients or clients to read while they are visiting you, or use them as a staff development tool. To order bulk copies please print and complete the Bulk Essence subscription form below.
---
We'd love to read your story
Do you have a story to share? 
Why not share it with Essence? We love submissions from mothers. You might have overcome breastfeeding hurdles, made a huge achievement, navigated breastfeeding multiples or returned to work. Perhaps you have some thoughts to share about motherhood. Whatever you think you would like to contribute, we would be so grateful to accept. 
Your submission might be short and sweet, or perhaps you have a bit more to say. Either way, this magazine is about mothers and their stories. Whatever the length or topic, we would love to read it.
Send your submission to essence@breastfeeding.asn.au
---
Looking to advertise with Essence?
Call (03) 9690 4620 (9am to 5pm, Monday to Friday) or email marketing@breastfeeding.asn.au to find out more.