Our Vision
The Australian Breastfeeding Association's (ABA) vision for society is that breastfeeding is recognised as important by all Australians and is culturally normal.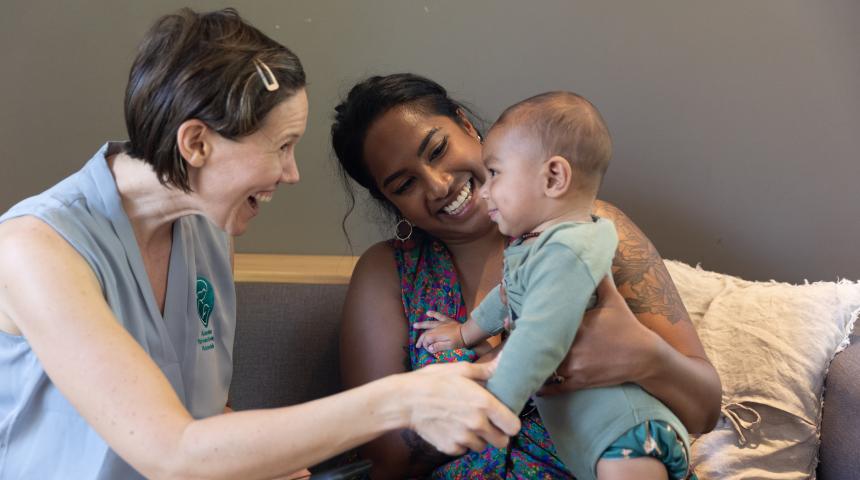 Our Mission 
As Australia's leading authority on breastfeeding, ABA supports, educates and advocates for a breastfeeding inclusive society. 
Our work
We are Australia's peak body for breastfeeding information and support.
Almost all women want to breastfeed their babies. Breastfeeding is a practical, learned skill and ABA aims to support the 300,000 plus women who give birth in Australia each year to breastfeed their child for as long as they choose to.  
Through the provision of evidence-based information, education and counselling, we provide unconditional peer support to mums and their families. At the same time, we educate and equip health professionals and advocate to remove the societal barriers to breastfeeding. 
Our services include personal membership for mums and their families, and membership for health professionals, a state-of-the-art online information hub, a 24-hour Breastfeeding Helpline, LiveChat, mum2mum app, an informative website, local support groups, antenatal classes and numerous print and digital resources. ABA also provides resources to support breastfeeding friendly communities, including Breastfeeding Friendly Workplace accreditation, Baby Care Room awards and the Breastfeeding Welcome Here program.
More than 1,000 volunteers are involved in the delivery of our services, as qualified breastfeeding counsellors and educators. The majority of our qualified volunteers are mothers themselves who have breastfed their own children and have completed a Certificate IV in Breastfeeding Education. 
ABA is a Registered Training Organisation offering nationally-recognised courses to those who wish to become qualified counsellors and educators and to health professionals caring for breastfeeding women and babies.
Our strategic plan
At ABA, everything we do is guided by our strategic framework. This framework enables us to unite and align across Australia. The 2020–2023 Strategic Plan  ensures that our organisation remains relevant to Australian mums, their families and the broader community. 
Strategic Framework 
The following strategic areas are key to achieving our mission and working towards our vision. 
Breastfeeding peer support 
Health professional education in breastfeeding 
Advocacy 
Community education 
Public awareness and promotion of ABA 
Organisational viability 
Training, education and resources 
Governance and organisational development