It's safer to breastfeed than formula-feed your baby if you smoke.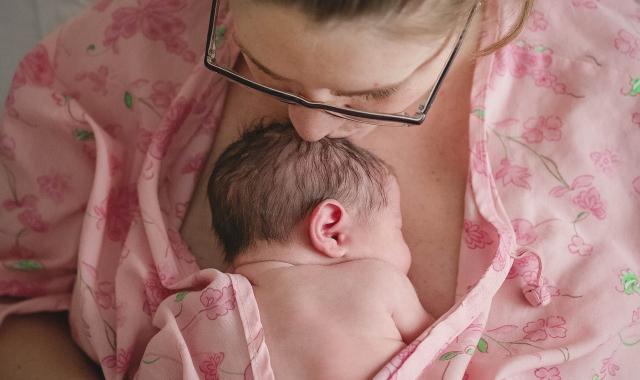 Some mums who smoke believe that it's safer to give their baby formula rather than breastfeed. However, this is not true. 
Babies who are formula fed are more likely to suffer from the effects of second-hand cigarette smoke, than breastfed babies. 
Exposure to second-hand cigarette smoke increases your baby's risk of lung infections, asthma and sudden infant death syndrome.1
Breastmilk contains important factors to help babies fight illness. Breastfeeding helps protect the baby from the harmful effects of cigarette smoke. 2,3 
If you are pregnant, breastfeeding or caring for a young baby, it's better that you don't smoke. But if you can't stop or cut down, then it's better to smoke and breastfeed than smoke and formula feed.4
Some women try e-cigarettes (often known as 'vaping') because they want to quit smoking or think it is safer for their baby. There isn't enough research yet to know if this is true. E-cigarettes are not harmless as they can still contain chemicals and nicotine which can pass into breastmilk and affect your baby's health. 
If you smoke: 
Wait until after a breastfeed. Nicotine levels in your breastmilk are halved about 97 minutes after a cigarette. 5,6 The longer the time between smoking and the next breastfeed, the less nicotine your baby will be exposed to through your breastmilk. 

Don't smoke or vape in the house or the car. Keep the area around your baby as smoke-free as possible. Don't allow anyone else to smoke near your baby. 

Cover up and clean up. Each time you have a cigarette, the chemicals are trapped in your clothing, hair and skin. You won't always be able to change your clothes, brush your teeth, shower and wash your hair after each cigarette. However, you could think about having a 'smoking outfit' or something to cover your clothes, which you keep outside to change into. Cover your hair with a shower cap or scarf. You can then wash your hands and brush your teeth when you take off the outer layer. 
Quitting 
There are a few different things you can use to help give up smoking. Options and useful resources on quitting smoking can be found at www.quitnow.gov.au or you can speak with your doctor. Make sure you tell them that you are breastfeeding so they can help you to choose the safest option for you and your baby. 
Some people use nicotine patches. If you use low milligram (ie 7 mg or 14 mg instead of 21 mg) nicotine patches and don't smoke, you'll have less nicotine in your breastmilk.7 Don't smoke any cigarettes at the same time as using a nicotine patch and follow the guidelines for that product. 

If you are using nicotine gum, breastfeed first then chew the gum after so there is less nicotine in your breast milk. 

You will need a prescription from a doctor if you want to use nicotine e-cigarettes as an aid to quit smoking.8
The information on this website does not replace advice from your health care providers.




© Australian Breastfeeding Association May 2022