New release of mum2mum app is on its way!
The new release of the app will be available for download later in March.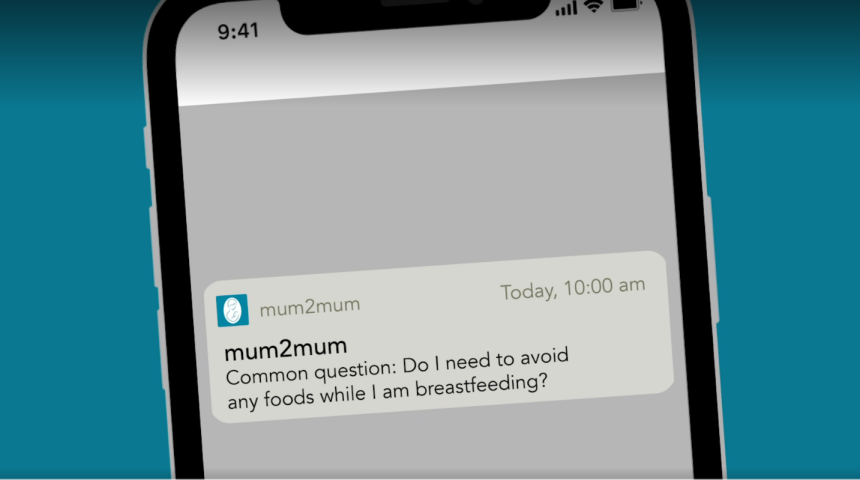 Our mum2mum app provides you with all the breastfeeding information and support you need at your fingertips.  
Search for breastfeeding information based on your baby or child's age.  
Find the answers to some commonly asked questions.
Keep a journal for your baby or child or record their feeds, sleep and nappy changes.  
Easily access ABA's National Breastfeeding Helpline, LiveChat, the website and store for resources that may assist you in your breastfeeding. 
Want more out of mum2mum?
Access premium, member-only content by becoming an ABA member via the 'Join us' link below. Premium content can also be accessed by becoming a subscriber through the mum2mum app. 
Don't want to become a member?
You can subscribe to the ABA app. Subscribers can also access all premium content and age-based push notifications. Become a subscriber within the app at any time. 
Download the new release of mum2mum later this month
Commonly asked questions
Is there a way to search for content?
Absolutely! To search for an article, navigate to 'Resources' or 'Journey' and type in your keyword into the search bar at the top of the page.
How do I access a saved feed?
Our app allows you to record your baby's feed, nappy and sleep data. To access saved records, please click the 'LOG' icon in the bottom left hand corner. From here you can scroll through previous saved feed, sleep and nappy data.
I have paid to access premium content but can't access it
You may need to sign out and back in. To sign out please click on the 'MORE' icon in the bottom right corner, then 'Sign Out'.
I have registered but I can't log in
If you have registered, please go to your email account to ensure you have received your registration email. Please be sure to check your junk or spam folder in your email account. If you have not received a registration email, your account set up was not completed so please try again. If you have received your email but are still unable to log in, please email app@breastfeeding.asn.au with your username and email address linked to your account.
I have an idea for the app!
Fabulous! mum2mum is continually evolving and we would love to hear from you. Maybe your idea will become a part of the app soon! Contact app@breastfeeding.asn.au with your ideas.
I think I have tried everything, and I still cannot log in/access content
First try a soft close. Push the home key on your phone, then swipe the app up to close. Then try signing out and back in. If this doesn't work, the final fix is to uninstall the app and then reinstall it before logging in again. 
If all of this fails, please contact us at app@breastfeeding.asn.au and let us know what is happening for you.
I'd like to provide feedback
We love to hear about your ideas for the app! We can also work with you to troubleshoot any issues you may be having or help with any questions you may have. Please contact us at app@breastfeeding.asn.au. We endeavour to respond to all emails within 7 days.