Most medications are safe to take while breastfeeding.
Where to go when you have questions about medicines.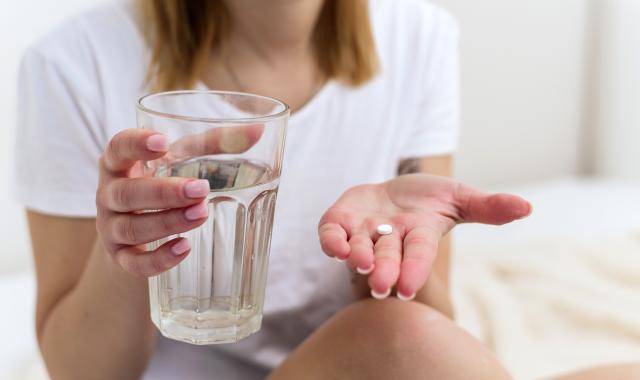 Many mums worry about taking medications during pregnancy or when they're breastfeeding. Most drugs do enter your breastmilk but are in tiny amounts that won't affect your baby. 
However, before your doctor prescribes medicine for you, make sure they know that you are breastfeeding. If you forget, you can check with the pharmacist when you pick it up.   
Sometimes the information provided with the medicine warns against using it when breastfeeding. In many cases this is because not enough research has been done with the medication in breastfeeding mums, not because it's considered unsafe. You or your doctor can check this by calling a medications information expert below. 
Safe options for common conditions
There are breastfeeding-friendly options for most common medications, including antihistamines, decongestant nasal sprays, painkillers, antidepressants and antibiotics. Check with your doctor or pharmacist if you need to take one of these.
Most prescribed medications are safe for breastfeeding mums and their babies. Sometimes babies may be a bit unsettled or have diarrhoea as a side effect. But this is minor compared to having the illness or condition.    
A few drugs may affect milk supply. Medicines that contain psuedoephedrine (some treatments for cold and flu or sinus problems) or oestrogen (some birth control products) have been shown to reduce supply. Discuss options with your doctor or pharmacist. 
Need information about medications and drugs?
Contact the national Medicines Line or the Medicines Information Centre in your state or territory.  
Most centres operate during normal business hours. The Medicines Line operates Mon - Fri, 9am-5pm AEST (excluding Victorian public holidays).
If a call is urgent and outside these hours, ring the Poisons Information Centre on 13 11 26 (all states & territories). 
Do I need to stop breastfeeding or throw my breastmilk out?  
There are a few special situations where a mum may need to express and throw away her breastmilk. This may be necessary for anti-cancer drugs, radioactive drugs or if she is using illegal drugs.
If you are in any of these situations, you can express to maintain your milk supply until the drug is out of your system and then start breastfeeding again. Talk to your pharmacist (or phone the Medicines Line) to find out how long the medication will take to leave your breastmilk.  
Managing your medications
Take medications only when it's better for your health to take them than not to take them.  
Ask your doctor about possible effects for you and your baby. For over-the-counter medicines or herbal products, ask your pharmacist about any effects.
Ask for medications that:  
are the best choice for you with a breastfeeding baby of your baby's age  

are not sedatives (these make you drowsy and may do the same to your baby)  

are the least likely to be harmful for your baby  

are not slow-release (so they don't stay as long in your body).  

act locally, if possible. That is, put on just one part of your body, not swallowed (eg an ointment rather than tablets).  
With an older baby, you may be able to time feeds so that you breastfeed just before it's time to take your medication.
In the following video, Dr Lisa Amir, general practitioner and lactation consultant, goes into detail about taking medications (and alcohol) while breastfeeding. 
The information on this website does not replace advice from your health care provider.
© Australian Breastfeeding Association January 2023