Wondering if exercise will affect your breastfeeding?
Let's look at the science.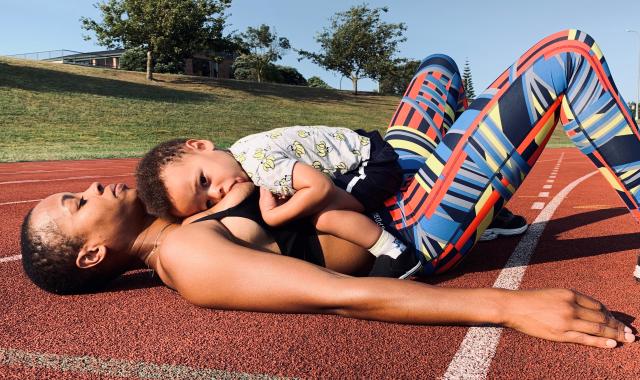 Exercise is an important part of life for many mums, including those who are breastfeeding. It can be difficult to fit exercise into your busy day and you may also often feel tired. Walking may be the simplest form of exercise to plan into your day. 
Some mums find it motivating to join a pram walking group, while others choose to walk to the local café or shops to meet up with friends in the area. 
However, you might be worried about whether exercise will affect breastfeeding. 
Effect of exercise on your wellbeing
Exercise assists in the wellbeing of new mums in many ways. For example, exercise can: 
improve your heart health1 and general fitness2 
improve your mental wellbeing and energy levels3
reduce stress levels3 
assist with weight control3  
improve your bone strength4 
assist with the treatment of post-natal depression5,6
Effect of exercise on your breastmilk and supply  
Moderate exercise won't affect  
breastmilk supply2,9 

levels of lactic acid7,8  

important immune factors (SIgA, lactoferrin, and lysozyme)10 

major nutrients (fat, protein, lactose) or energy density9 

major minerals (calcium, phosphorous, magnesium, potassium and sodium)11 
Some mums are concerned about lactic acid build up after exercise and whether this affects their breastmilk. Mild or moderate exercise does not cause lactic acid to increase in breastmilk and does not affect a baby taking the milk.
Intense (maximal) exercise can cause an increase of lactic acid but there is no evidence to suggest that breastmilk with increased lactic acid levels will harm your baby in any way. 
Effect of exercise on the growth of your baby  
Exercising and breastfeeding won't have any effect on the growth of your baby.12 If you need to lose weight, doing moderate exercise 4 days per week to help lose 0.5kg per week won't affect your baby's growth.2 It's helpful if your breastfeeding is well established first before you start exercising.  
Breastfeeding, exercise and 'loose ligaments'  
Your body is designed to carry a baby through pregnancy, give birth and breastfeed. Hormonal changes in pregnancy and childbirth allow the ligaments in your pelvis to loosen so that your baby can be born.   
After birth, many of these hormones are no longer needed and so their levels drop off. Various hormonal, postural and muscular changes that occur during pregnancy and childbirth may play a role in causing various musculoskeletal conditions (eg pelvic floor or abdominal muscle weakness, or 'loose ligaments').
For some women these changes may cause pain (particularly in the pelvic or lower back regions) or other problems (eg incontinence). For some women, these problems may continue for a period of time after birth.  
If you have any of these conditions you may benefit from seeing a physiotherapist. They can advise you on ways to relieve the condition and give you some suitable exercise.  
There is no evidence to suggest that breastfeeding makes any of these conditions worse.  
Breastfeeding and your pelvic floor.
Research has found that breastfeeding after vaginal childbirth is not associated with the development of incontinence or pelvic organ prolapse.13 
Learn more about diet and exercise while breastfeeding
Evidence-led info and practical tips from our Parenting Information Series
Breastfeeding: diet, exercise, sex and more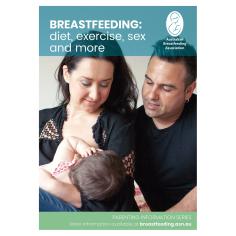 References
Amorim AR, Linne YM, Lourenco PMC 2008, Diet or exercise or both for weight reduction in women after childbirth. Cochrane Database Systematic Reviews, Issue 3. 
Lovelady C 2011, Balancing exercise and food intake with lactation to promote post-partum weight loss (Review). Proc Nutr Soc 70(2):181–4. 
Rich M, Currie J, McMahon C 2004, Physical exercise and the lactating woman: a qualitative pilot study of mothers' perceptions and experiences. Breastfeed Rev 12(2):11–7. 
Lovelady CA, Bopp MJ, Colleran HL, Mackie HK, Wideman L 2009, Effect of exercise training on loss of bone mineral density during lactation. Med Sci Sports Exerc 41(10):1902–7. 
Daley A, Jolly K, MacArthur C 2009, The effectiveness of exercise in the management of post-natal depression: systematic review and meta-analysis. Fam Pract 26(2):154–62. 
Norman E, Sherburn M, Osborne RH, Galea MP 2010, An exercise and education program improves well-being of new mothers: a randomized controlled trial. Phys Ther 90(3):348–55. 
Carey GB, Quinn TJ 2001, Exercise and lactation: are they compatible? Can J Appl Phys 26(1): 55–74. 
Wright KS, Quinn TJ, Carey GB 2002, Infant acceptance of breast milk after maternal exercise. Pediatrics 109(4): 585–589. 
Dewy K, Lovelady C, Nommsen–Rivers L, McCrory M, Lonnerdal B 1994, A randomised study of the effects of aerobic exercise by lactating women on breast-milk volume and composition. New Engl J Med 330: 449–453. 
Lovelady CA, Hunter CP, Geigerman C 2003, Effect of Exercise on Immunologic Factors in Breast Milk. Pediatrics 111(2):e148-e152. 
Fly AD, Uhlin KL, Wallace JP 1998, Major mineral concentrations in human milk do not change after maximal exercise testing. Am J Clin Nutr 68(2):345–9. 
Daley AJ, Thomas A, Cooper H, Fitzpatrick H, McDonald C, Moore H, Rooney R, Deeks JJ 2012, Maternal Exercise and Growth in Breastfed Infants: A Meta-analysis of Randomized Controlled Trials. Pediatrics 130(1): 108–114. 
Lovejoy DA, Roem JL, Blomquist JL, Pandya PR, Handa VL 2019, Breastfeeding and Pelvic Floor Disorders One to Two Decades After Vaginal Delivery. Am J Obstet Gynecol 221(4): 333.e1-333.e8. 
The information on this website does not replace advice from your health care provider.
© Australian Breastfeeding Association April 2022