Kirsten shares the story of her first night out away from her baby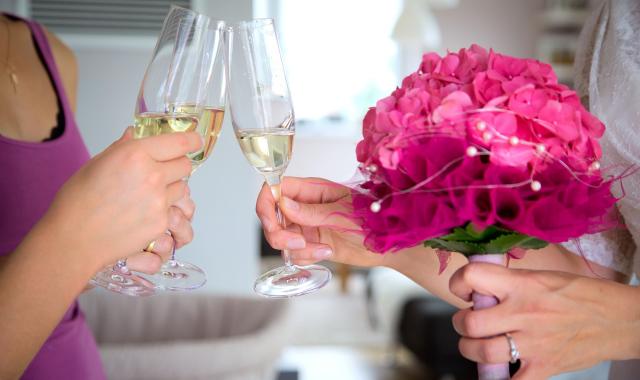 "Can I get you a drink?"
It's a question we hear at almost every social gathering, whether we're being offered a glass of bubbles at an engagement party or a beer at a family barbeque.
As a breastfeeding mum, there have been times when I'd love to say yes to a glass of wine or two with dinner, but I've needed to ask myself "how can I do this safely?".
When my baby was little, the decision was easy to make. I knew the safest option for her health and development was to avoid alcohol altogether. I didn't feel like it was a big deal, after all, I had avoided alcohol for nine months while I was pregnant, so a few more months weren't really going to make much of a difference!
But when I was invited to a friend's wedding when she was 7 months old, I knew I'd need to do some planning if I wanted to let my hair down and have a few drinks. Before I had children, all I needed to do before an event was choose a new dress, find shoes that looked good AND were comfortable enough to dance in all night, and figure out how to get home safely at the end of the night. Every mum knows that when you have a baby, every little outing requires a whole lot more planning than before, and that includes going out for a drink.
When I started organising my night out, I realised I had a ton of questions. How many drinks could I have at the wedding? How would I know when it would be safe to breastfeed again? What if I had so much fun that I accidentally drank too much? I knew the Australian Breastfeeding Association website had some great information, so I read the article Alcohol and breastfeeding and started figuring out a plan.
The first question I needed to answer was, how many drinks could I have and still breastfeed my baby? Before the wedding, there had been times when I'd had a drink with dinner, but since it was only one drink, I had been able to feed my baby, put her down for a nap and then enjoy a drink. I knew she'd sleep for around two hours before waking, and I knew the alcohol would be out of my breastmilk by then so it would be safe to feed her when she woke. This time, I knew I would be having more than one drink every two hours at the wedding, and my baby would be at home with my partner, so this strategy wouldn't be an option. 
I needed to express some milk to leave with my partner. I hadn't used a breast pump since my daughter was a newborn, so a few days before the wedding I pulled my breast pump out of the back of the linen cupboard to see if I could express anything. To my surprise I was able to pump more than I thought, so over the next couple of days, I expressed enough milk for three feeds and popped it in the fridge. We weren't sure if she'd take a bottle while I was out, but she was getting pretty good at using a sippy cup, so we had that ready as our backup plan. 
The day of the wedding, I gave her a feed just before I left, then off I went, with my manual breast pump tucked in my handbag. It was the first child-free night out I'd had since she was born, and I was planning to make the most of it!
What I hadn't planned for was how much I would miss my baby, even though I was only going to be away from home for a few hours. I think my partner got a bit sick of me asking for updates and photos all night, but I was so relieved to hear she happily drank the expressed breastmilk I left for her and drifted off to sleep without a fuss on her dad's chest at bedtime.
Part way through the night my breasts started feeling a bit full and uncomfortable, so I asked one of the function staff if there was somewhere private I could pump. They found me a cosy little room where the bridesmaids get ready and kindly brought me a bottle of water and some canapes to munch on while I pumped. I had been keeping track of how many drinks I'd had on the Feedsafe app, so I knew that my breastmilk still had alcohol in it at that point and I would need to discard the small amount I had pumped. 
I decided to stop drinking for the rest of the evening, so I'd be able to breastfeed when my baby woke up in the early hours of the morning. By stopping early, I gave my body time to get rid of the alcohol and allowed enough time for my milk to be alcohol-free again for when I needed to feed next. 
When the night drew to a close, a taxi dropped me home and I tiptoed down the hallway, past my husband and daughter who were sound asleep in our bedroom. We usually bedshared, but since I had been drinking it was safer for me to crash in the spare room that night. My daughter surprised me by sleeping through until 6am for the first time ever, so when she woke, enough time had passed for all the alcohol to be out of my milk and we had a lovely snuggly morning feed.
My first night out without my baby was a success all around, but sometimes even the best laid plans don't work out. There might be times when you have more to drink than you had intended, or your baby wakes for a feed much sooner than you were expecting. Maybe you hadn't planned to drink at all, so you didn't have a plan worked out beforehand. But there's no need to panic. If you don't have any expressed milk available, call the National Breastfeeding Helpline and chat with a breastfeeding counsellor about your options. Our volunteers understand that things don't always go the way we intend and can help you make a new plan to feed your baby.
 
---
Kirsten is an ABA breastfeeding counsellor, group leader and content creator for the national social media team. She lives in the Dandenong Ranges with her two girls, her husband and a couple of miniature goats.
---
More information
Companion podcast episode
Should you have a glass of wine at dinner? Or enjoy a couple of drinks at a celebration? Jessica and Naomi break down what to consider when deciding whether to have a drink or not while breastfeeding. We also hear from Dr Lisa Amir on how alcohol as a drug impacts breastmilk.
More ways to get information and support right now