You can support breastfeeding
by knowing how to feed expressed breastmilk (EBM) to babies in your centre.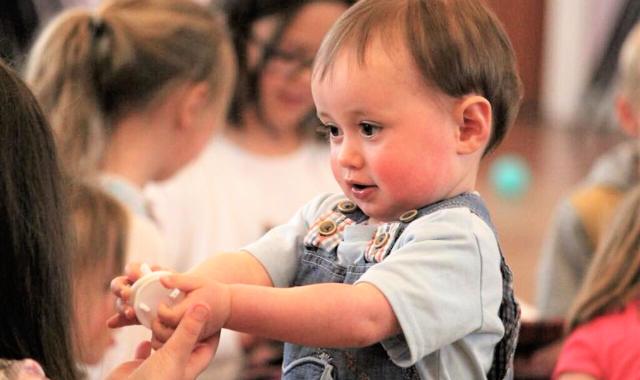 Providing a mother's expressed breastmilk to her child in early childhood education and care services supports mother and child to continue breastfeeding.  A breastfeeding-friendly environment and practices which promote breastfeeding are an asset to a centre or service providing education and care for babies and children.   
ECEC workers can promote breastfeeding by knowing how to correctly store, prepare and use expressed breastmilk.   
Guidance on providing expressed breastmilk for Australian early childhood education and care settings is given in the NHMRC's Staying Healthy: Preventing infectious diseases in early childhood education and care services (5th Edition) (2012), and in Get Up & Grow (2009). 
Storage and handling of expressed breastmilk (EBM) 
Labelled breastmilk needs to be kept refrigerated or frozen. 

It isn't necessary to wear gloves to handle breastmilk.  Breastmilk is not a listed body fluid in the Staying Healthy guidelines. Overuse of gloves can cause skin reactions and sensitivity.  Hands should always be washed with soap and water and dried before handling food.  The Staying Healthy guidelines state: 
"Always wash and dry your hands before handling food. There is no need to wear gloves when preparing food if your hands are clean and dry. Gloves are not a substitute for clean hands... The same guidelines apply when you are preparing to give an infant a bottle as when you are preparing food for older children to eat." (pp 56-57) 
 
Some mums have to work hard to express enough milk for their baby (pumps aren't as efficient as babies as removing milk). These mums will appreciate your efforts to minimise wastage.
Preparing expressed breastmilk 
When thawing breastmilk, always use the oldest milk first, and just heat the amount you need. You can always heat up more, but once it has been heated up, any milk left must be thrown out. Read more about preparing breastmilk.  

Never refreeze thawed breastmilk. 
Feeding expressed breastmilk  
Breastfed babies may prefer to have their feeding paced. Pacing feeds allows a baby to feed according to their need and at their pace. It prevents a baby from taking more milk than they really need. 
Supporting families to breastfeed  
Ask about breastfeeding at the time of enrolment and support families to develop a breastfeeding plan. 

Identify your service as 'Breastfeeding friendly' by displaying an ABA Breastfeeding Welcome Here sticker. 

Set up a comfortable place in the centre for mothers who want to breastfeed or express milk. 
Download A Caregiver's Guide to the Breastfed Baby. This leaflet explains how to store, handle and feed expressed breastmilk to babies.