Our resources support services and educators
To provide quality care and meet the needs of mothers returning to work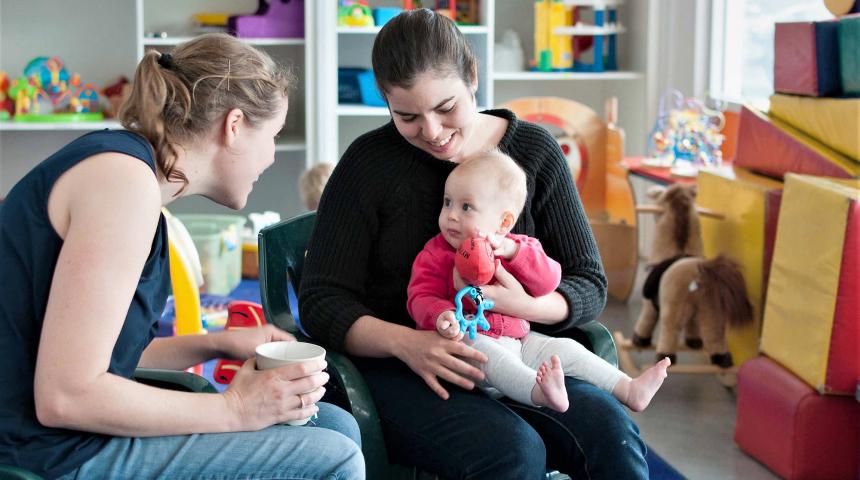 As more and more mothers return to work within the recommended timeframe for breastfeeding, Early Childhood Education and Care (ECEC) providers have an important and growing role to play in supporting mothers' decisions to combine breastfeeding and work.
ABA's resources enable your service to provide breastfeeding women returning to paid work, with high quality, evidence-based information and support.
We are currently working on a learning module for ECEC providers. Your staff will be well equipped to initiate collaborative partnerships with families from the outset (National Quality Framework: Quality Area 6).
Offering this service to new families will be a point of difference for your service.  
ECEC Services
Offering this service to new families will be a point of difference for your service.
Breastfeeding support is increasingly recognised as a dimension of quality care in Early Childhood Education and Care services.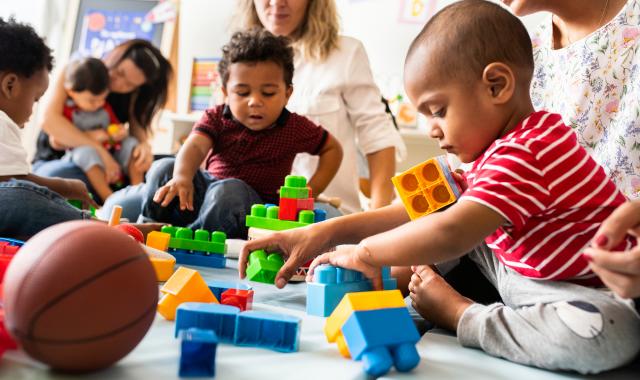 FAQs
What are the benefits for my ECEC service supporting breastfeeding?
Early childhood experiences and caregiving practices, including breastfeeding, are critical to optimal human development. Supporting breastfeeding aligns ECEC services with Quality Area 2 under the National Quality Standard which aims to safeguard and promote children's health and safety, minimise risks and protect children from harm, injury and infection. 
Referencing extensive research, the Australian National Breastfeeding Strategy 2019 and beyond (ANBS) states that findings from epidemiology and biology studies substantiate the fact that not breastfeeding a child has major long-term effects on the child's health, nutrition and development and also on the mother's health. "Possibly no other health behaviour can produce such different outcomes for the two individuals involved: the mother and the child……Breastfeeding is an important first step to improved short-term and long-term physical and mental health outcomes for both babies and mothers and facilitates bonding between mother and child." 
ECEC services benefit when they support families where they are at, and this includes supporting women to continue their breastfeeding relationship. Quality Area 6 under the National Quality Standard aims to recognise that collaborative relationships with families are fundamental to achieving quality outcomes for children and that community partnerships that are based on active communication, consultation and collaboration are also essential.  
How can my ECEC service support breastfeeding?
There are many practical steps your centre can take to support breastfeeding and demonstrate your support, including: 
Developing policies and practices that encourage and support continued breastfeeding among staff and families. 
Including information about your support of breastfeeding in your registration material and information packs. Let mothers know you are supportive of receiving expressed breastmilk and encourage visits during the day to breastfeed if this is an option that works for them. 
Including breastfeeding in information you offer families about nutrition and feeding and ensure this is reflected in your service's feeding practices. 
Providing a clean and comfortable space and friendly environment for mothers to breastfeed or express breastmilk, including your own staff. 
Being positive about breastmilk being left for an infant in your care. 
Reassuring mothers that their expressed breastmilk will be stored and handled safely at the centre and demonstrating how this will happen. 
Downloading and implementing practical suggestions in NSW Health's Encouraging & supporting breastfeeding in childcare resource kit 
What costs are involved in implementing breastfeeding support measures?
The measures described above and in NSW Health's Encourage and Support Breastfeeding Fact Sheet are low cost and simple to implement. However they go a long way to reassuring breastfeeding mothers that breastfeeding is the biologically normal way to feed their infant and that you will support them as they move back into the workplace.
Can I access recognition for my ECEC service's support of breastfeeding mothers?
ABA offers opportunities for recognition:
Show your support for breastfeeding by registering your centre as a Breastfeeding Welcome Here venue. We will provide you with a sticker that you can display to demonstrate your centre's support. 
Gain accredited as a Breastfeeding Friendly Workplace through our supportive self-assessment process and extensive professional development activities. 
What are the legal requirements for ECEC services to support breastfeeding as a service provider?
The Sex Discrimination Act 1984 (Cth) makes it unlawful to discriminate against women who are breastfeeding, including those who need to take short breaks at work to express milk. It is against the law to discriminate, directly or indirectly, against a woman based on sex, breastfeeding status, pregnancy, or carer's responsibility. Breastfeeding status includes expressing milk. It is generally against the law to tell a woman not to breastfeed or express in the workplace. Federal laws are reinforced by laws in all Australian states and territories that protect breastfeeding. It would be against the law, for example, for an ECEC service to: 
refuse an application for a child care place, or not offer a place, because a child is breastfed 
discourage a mother from continuing to breastfeed when her child starts in care 
not let a woman breastfeed or express milk on their premises, 
refuse to feed a child its mother's expressed breast milk 
do anything else that makes it difficult for parents to continue giving breast milk to a child while they in their care. 
What are the legal requirements for ECEC services to support breastfeeding as an employer?
The Fair Work Act 2009 (Cth) does not contain specific provisions that relate to breastfeeding breaks or breastfeeding in the workplace. According to the Fair Work Ombudsman: 
A best practice employer can support employees who are breastfeeding by making sure they have suitable facilities available—examples are a private room for breastfeeding, somewhere where the employee can store a breast pump, and a fridge where they can store breastmilk. 
Employees should also be given appropriate breaks so that they can breastfeed or express. 
Breastfeeding is a protected ground of discrimination. Making an employee feel uncomfortable about breastfeeding, or not providing adequate facilities or breaks, may constitute discrimination. It may also not meet the duties set out in work health and safety laws. 
All modern awards contain provisions that supplement the right to request flexible working arrangements under the National Employment Standards. An employer who receives a request for flexible working arrangements from an employee whose terms and conditions are set by a modern award must discuss the request with the employee and genuinely try to reach an agreement on a change in working arrangements that will reasonably accommodate the employee's circumstances. 
As a ECEC service provider, you must not discriminate against breastfeeding mothers. The right to breastfeed is protected under the ACT Discrimination Act 1991. Everybody who provides a child care service is covered by this requirement, including long day care, occasional care, family day care, or in home care. It doesn't matter if the service is not for profit or commercial. 
Which Australian national guidelines promote breastfeeding, including its support in ECEC settings?
What is the WHO Code and why is it important?
The General Assembly of the World Health Organization's International Code of Marketing Breastmilk Substitutes (WHO Code) aims to contribute to the provision of safe and adequate nutrition for infants, by the protection and promotion of breastfeeding, and by ensuring the proper use of breastmilk substitutes, when these are necessary, on the basis of adequate information and through appropriate marketing and distribution.
It is important to note that the WHO Code is not "anti-formula". The Code recognises that breastmilk substitutes have a legitimate role to play in circumstances where a child is not breastfed and cannot access expressed or donor breastmilk.  
The Code aims to protect the community from irresponsible and biased marketing of breastmilk substitutes; marketing that has the potential to seriously undermine the role of breastfeeding globally. It also recognises that inappropriate feeding practices lead to infant malnutrition, illness and mortality in all countries.
Elements of the WHO Code that are relevant in ECEC settings include:
There should be no advertising or other promotion to the general public of products within the scope of the Code; ie, breastmilk substitutes (including infant formula and complementary foods), bottles or teats
Free samples of breastmilk substitutes or items that promote breastmilk substitutes should not be provided to pregnant women, new mothers, or health facilities
Health risks to infants who are formula fed, or who are not exclusively breastfed, should be highlighted through appropriate warnings and labelling
Labelling of breastmilk substitutes should contain instructions on how to use the product to minimise the risks of use. Information on formula feeding, including that on labels, should explain the benefits of breastfeeding and the costs and dangers associated with the unnecessary or improper use of infant formula and other breastmilk substitutes.
Pictures or text that idealise the use of breastmilk substitutes should not be used.
Get recognised for your support of breastfeeding mothers
Further links - National Strategies