Prep for breastfeeding success with our online education workshops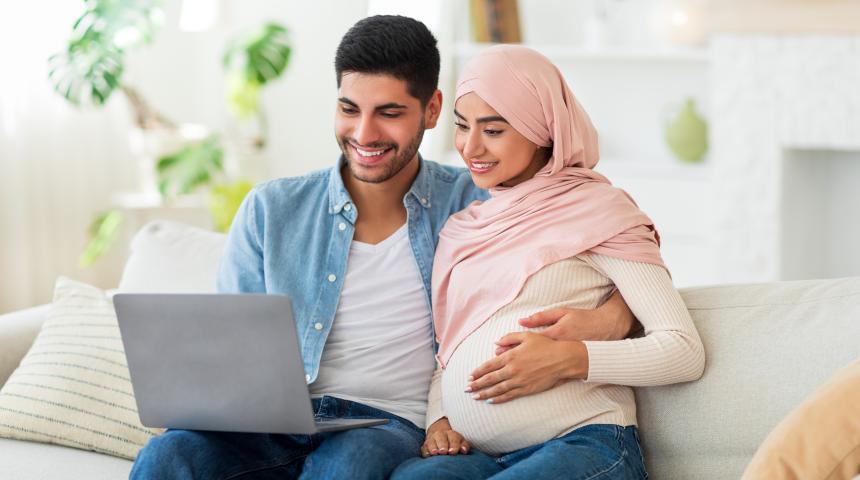 ABA's online Breastfeeding Preparation Sessions are an important part of your family's pre-birth plan. They run on a weekly basis and can be completed from the comfort of your own couch.
Breastfeeding is a learned skill, for mums and babies alike. Get the practical skills to help you and your baby in establishing breastfeeding, as well as solutions for common challenges. Learn with a small group of other expectant parents, covering must-have tips and techniques from our qualified breastfeeding counsellors and educators. At the end of the session, hear from a breastfeeding mum and ask anything you want to know in the Q&A segment. You'll leave feeling empowered, excited and prepared for the journey ahead.
Our Breastfeeding Preparation Sessions include classes for specific situations - including mums expecting multiples, LGBT+ families and mums with diabetes.
Become an ABA member and book your Breastfeeding Preparation Session for $20
Book a Breastfeeding Preparation Session now
Key topics
Positioning and attachment for a comfortable feed
Reading your baby's feeding cues
How to tell if your baby is getting enough milk
Accessing quality help and support
Quick resource guides for you and your family
Commonly asked questions
What's the difference between a Breastfeeding Preparation Session and a Breastfeeding Education Class?
Breastfeeding Preparation Sessions are delivered online – running for 1.5 hours. Breastfeeding Education Classes are run in-person at a local venue, lasting for about 3 hours.  
Both sessions are interactive, light-hearted, and welcoming. While the topics covered are similar, the delivery styles and feel are different. The biggest difference is that Breastfeeding Education Classes provide for in-person visual learning from a breastfeeding mum (and baby) in addition to a breastfeeding educator. Many participants really value being able to watch and ask questions to a mum as she feeds her baby, in a relaxed and judgement-free space. 
Within the shorter Breastfeeding Preparation Sessions, a Q&A segment is also provided with a breastfeeding mum, but the limits of webcams (and wriggly babies) mean that capturing a live breastfeed isn't practical.  
Online Breastfeeding Preparation workshops are offered at least weekly and provide additional learning activities that you can do in your home.   
We suggest that following your workshop or class, you drop into a local support group activity before your baby arrives. This is a priceless step in creating your own parenting village, and will provide you access to qualified breastfeeding educators who can answer any additional questions you may have.       
Can my partner attend or support person attend?
Of course! There is no charge for partners (or support people) to attend, and its highly recommended. Research shows that a partner who understands and supports breastfeeding is a mum's biggest asset. Bringing partners up to speed with how breastfeeding works, things to look out for, and for them to understand what practical support entails, is priceless.  
When should I do a workshop/ class?
Many mums find booking a session when they are 6 to 7 months pregnant ideal.  This allows for breastfeeding supportive strategies to be added to birth plans, time to connect with local support groups, and time to allow for potential early arrivals!   
Our Breastfeeding Preparation Sessions are held at least weekly, so if your pregnancy has flown by, sign up now to get up to speed before welcoming your baby.  You'll be in the company of other expectant parents who are juggling similar time pressures. 
Past participants regularly comment that our classes were THE most important bit of pre-birth preparation they did - so schedule an ABA workshop or class now. 
Families with newborns are welcome, although do contact us – as we have other support options which may more helpful.  
I have particular questions about breastfeeding. Can you answer them?
Absolutely!  Our workshops are designed to pre-emptively answer many of your questions – we speak with 60,000+ new parents every year – so we know what you're searching for answers on. We allow for lots of questions to the breastfeeding educator OR breastfeeding mum within the workshop. If your situation is complex, or more individual support is your style, consider attending a local face-to-face Breastfeeding Education Class (if available) where there is naturally more time for discussion.  
Alternatively, attend the online Breastfeeding Preparation Session for general breastfeeding information and tips, and then talk over any further concerns with a breastfeeding counsellor on the National Breastfeeding Helpline – available 24/7 and free of charge.  Many of our breastfeeding counsellors (who answer your call) also lead our workshops and classes, and all are informed by the same evidence-led and practical information, free from any commercial bias.   
We also offer specialty online workshops for LGBT+ families, those expecting multiples and mums with diabetes. 
I'm expecting twins. Which class will be best for me?
We do offer some face-to-face breastfeeding education classes for mothers expecting multiples, however, these may be limited depending on your location. 
Alternatively, our online Multiples Breastfeeding Preparation Sessions run more frequently and can be completed from the comfort of your own home.
If you are unable to attend either of these options, our general live sessions or in-person Breastfeeding Education Classes will also provide you with information and support to help you prepare for your new arrivals. 
"We learnt SO much! We left with a great toolkit and the confidence to spot and solve our minor breastfeeding issues!   

Knowing that high-quality 24/7 support was waiting for us was so reassuring – we didn't need it, but I loved knowing it was there!"

Alice, Blue Mountains