Meet other new parents online for information and support in the early days and weeks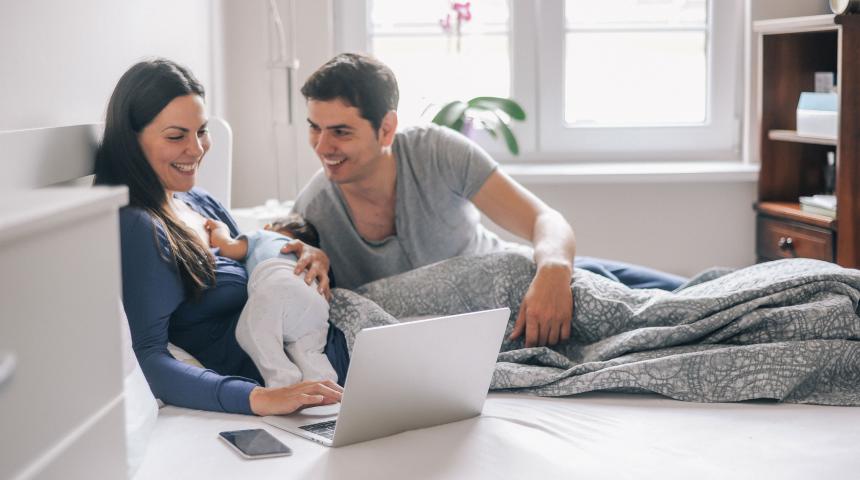 ABA's online Newborn Virtual Village will provide you with information and support in the early days and weeks after giving birth. Drop into one of our live sessions whilst you're still in hospital or from the comfort of your own bed or couch.  
Breastfeeding is a learned skill, for mums and babies alike. Sessions run twice a week and offer practical skills and support to help you and your baby in establishing breastfeeding and adjusting to life as a new parent. Learn online with other new parents, as our breastfeeding educators and counsellors share tips and techniques to make life with your newborn easier.
Topics
Topics rotate for each online session and include 
Comfortable attachment and early days support
Learning your baby's feeding and other cues
Too much, too little, just right - working out your supply in the early days
Sleep and breastfeeding patterns in the early weeks
This is not the body I had before - intimacy and wellbeing post-birth
Commonly asked questions
When can I start attending?
Our online sessions are held twice a week and are recommended for parents in the first 2 months after giving birth so jump in when you can manage it. You'll be in the company of other brand new parents who are on the same steep learning curve.
Can my partner or support person attend?
Of course, all partners and support people are welcome to attend. Research shows that a partner who understands and supports breastfeeding is a mum's biggest asset. Bringing partners up to speed with how breastfeeding works, things to look out for, and for them to understand what practical support entails, is priceless.
I have particular questions about breastfeeding. Can you answer them?
Absolutely, our sessions are designed to pre-emptively answer many of your questions – we speak with 60,000+ new parents every year – so we know what you're searching for answers on. We allow for lots of questions, ask them to the breastfeeding educator or counsellor facilitating the session.
If your situation is complex, or more individual support is your style, we might suggest that you call our 24 hours a day National Breastfeeding Helpline on 1800 686 268. Many of our breastfeeding counsellors (who answer your call) also lead our workshops and classes, and are all informed by the same evidence-led and practical information, free from any commercial bias.   
I'm not an ABA member, am I able to attend a session?
Yes, you sure can. Sessions are $50 each for non-members. 
If you plan on attending more than one session, we recommend signing up to become an ABA member to receive access to all five sessions for free.
To become an ABA member and receive lots of other wonderful membership benefits click here.