When bottle feeding isn't safe you can feed your baby by cup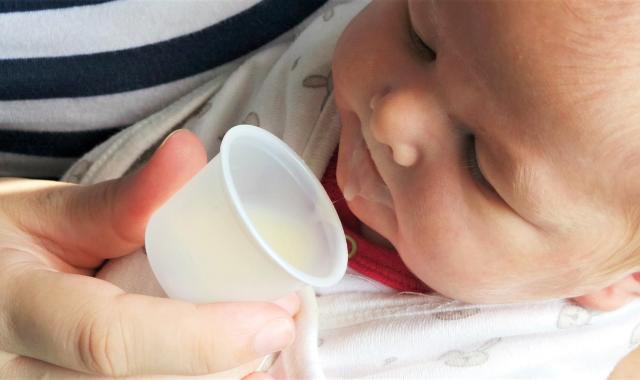 Breastfeeding is the safest way to feed a baby in an emergency situation. However, many babies will be used to feeding from a bottle either with expressed breastmilk or formula. 
Feeding bottles and teats can be difficult to clean in emergency situations. A safer option than a bottle is a cup. Babies who are bottle-fed can be taught to drink from a cup. 
What sort of cup?  
Open cups are safest and can be cleaned easily. 'Sipper' lids and straws are also hard to keep clean. For a young baby you can use a small plastic or glass cup (eg a medicine cup). 
It's important to always supervise babies while they are drinking. 
How to cup-feed 
The following points will help to cup-feed safely. However, it's good to have someone help you as well, such as another mother, a breastfeeding counsellor or a health professional. 
It is important not to lay your baby back because this can cause choking and spluttering, and baby might breathe in some milk.  
Cup-feed your baby only when they are fully awake and alert 

Wrap a small baby to gently restrain their hands, or hold an older baby in a position so that they can't reach for the cup 

Sit baby upright in your lap and hold them firmly with your spare arm and hand 

With the cup about half full, hold it so that it is just touching baby's mouth and reaches the corners of their mouth, resting it only lightly on the lower lip 

Start by allowing baby just a tiny sip to encourage feeding 

Do not pour the milk into baby's mouth; tip it just enough so that they can lap it themselves, bringing their tongue forward to do so 

Keep the cup in this tilted position 

Do not take the cup away when they pause, unless they pull away 

Let baby start again when they are ready and let baby set their own pace 

Follow baby's cues. They should be in control of how much milk they takes at a time. 
At first cup-feeding may seem slow and messy. However, in a short time the process of cup feeding becomes easier. 
© Australian Breastfeeding Association April 2022