Know what you need to have ready to keep safely feeding your baby or child.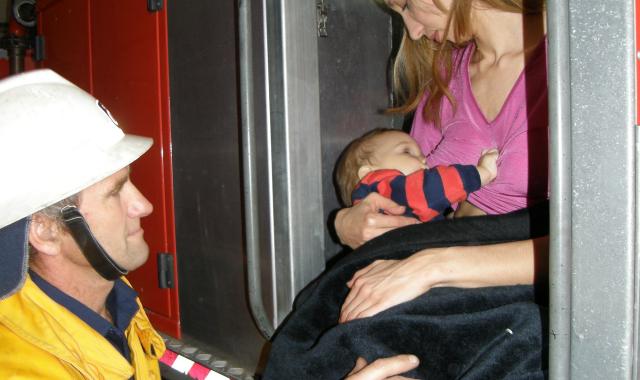 Natural emergencies regularly occur throughout Australia so it's important for families to prepare themselves in case they are affected. Older children or adults can survive with only water (or other drink) for several days.
However, babies can quickly become very ill if they don't have the right food. This is why it is very important to have an emergency plan to care for your baby. 
If you are breastfeeding your baby
Exclusively breastfed babies are least affected by an emergency as breastmilk provides babies with safe food and water. It also helps to protect against infections that are common in emergency situations. If you are exclusively breastfeeding, you don't need to store any supplies for feeding your baby in an emergency, apart from some water for yourself. Continuing to exclusively breastfeed through the emergency season is a way to be prepared.  
Even during extreme hot weather, breastmilk provides all of the fluid your baby needs. Your baby doesn't need extra water. Giving water to a young baby can cause severe health problems like water intoxication, because their kidneys are not fully developed. 
Emergencies can be very stressful. Stress will not stop you making milk but it can slow the let-down reflex. This might cause your baby to be fussy at the breast. Encourage your baby to keep sucking until your milk flows.
Call a breastfeeding counsellor if you need some reassurance about your milk supply. They can provide you with information and support to help you manage feeding through the emergency. 
If you are breastfeeding, the following list is all you will need in an emergency. 
Emergency kit for a breastfed baby
To provide basics to feed and care for a breastfed baby having around 8 feeds a day for up to 3 days without access to mains water and electricity. 
 
10L water for mother to drink
36 nappies
100 nappy wipes
National Breastfeeding Helpline 
1800 686 268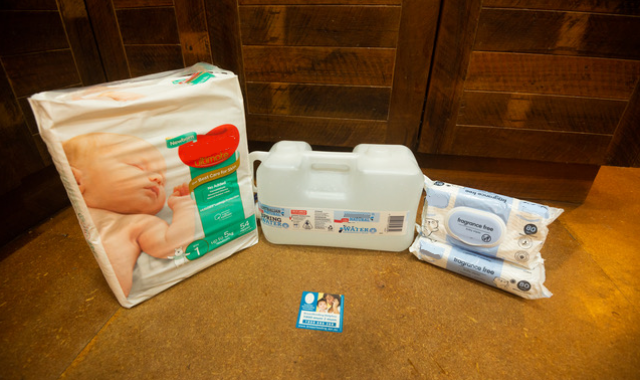 If you are feeding expressed breastmilk to your baby
Many mums across Australia exclusively express their breastmilk using an electric breast pump. However, during emergencies you may have no access to electricity or mains water. Without hot water, you can't even clean a hand pump properly. In these cases, you may need to learn how to hand express.
Call a breastfeeding counsellor to talk you through this. 
The following list is what you'll need if you are in a natural emergency. 
Emergency kit for a baby fed expressed breastmilk  
Image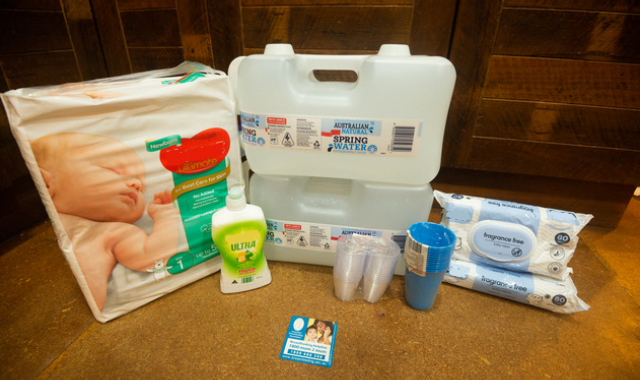 To provide basics to feed and care for a baby who is breastmilk fed having around 8 feeds a day for up to 3 days without access to mains water and electricity. 
10L water for mother to drink
10-30L water for washing hands
30 cups or bottles for expressing and feeding
detergent for washing hands
36 nappies & 100 nappy wipes
National Breastfeeding Helpline 
1800 686 268
Wash hands thoroughly before expressing
You can store expressed breastmilk safely for 4 hours at temps over 30'C and longer in colder conditions before throwing out.
Use feeding cups or bottles only once
Help with hand expressing or cup feeding from ABA National Breastfeeding Helpline 
If you are giving your baby some formula 
Many babies in Australia are not exclusively breastfed and these parents also need assistance to care for their babies in an emergency. If you are combining breast and formula-feeding, you might like to think about whether you could return to exclusive breastfeeding. Again a breastfeeding counsellor is able to offer practical suggestions about this. More frequent feeding helps increase the amount of breast milk you will make. 
If your baby is fully formula-fed, you will need to pack an emergency kit in case you are without power or water. If you don't have unlimited access to hot water, you won't be able to wash feeding utensils like baby bottles well enough to be safe. For this reason, emergency kits should include single use feeding equipment - one bottle and teat for each feed.  
This list may assist parents caring for formula-fed infants to prepare for an emergency: 
Emergency kit for a fully formula-fed baby
To provide basics to feed and care for a baby who is formula fed having around 8 feeds a day for up to 3 days without access to mains water and electricity. 
 
1 unopened tin of infant formula
14 small bottles water for making up formula
15L water for washing hands & preparation area
27 feeding bottles and teats (one for each feed)
detergent for washing hands and preparation area
100 sheets paper towel for drying hands and preparation area
large storage container with sealing lid, the lid to be used as a preparation surface
36 nappies &100 nappy wipes
Image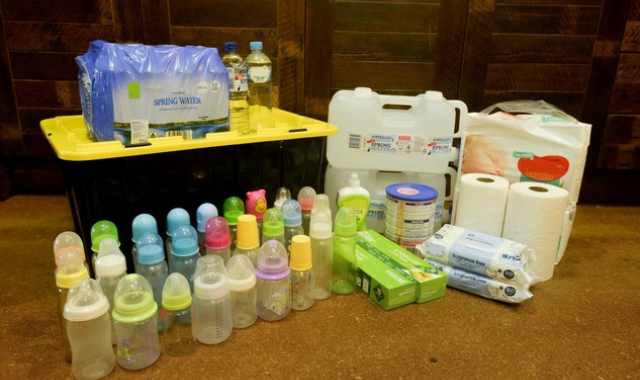 All bottles should be sterilised and completely dry before individually sealing and storing in ziplock bag
Clean and dry prep area; wash and dry hands thoroughly
Use small bottles of water for making up formula
Add the correct amount of infant formula
Feed milk to baby straight away
Unused formula should be thrown out and bottle not reused.
Storing your supplies
All of these supplies can be stored in a lidded plastic box. The inside of the lid can act as a clean preparation area. It is generally recommended that 3 days of feeding supplies be stored in an emergency kit. 
It may also be a good idea to store solid food suitable for feeding to babies over 6 months but babies can also return to only milk feeds if solid food is not available in an emergency. In addition to feeding supplies, storing enough nappies and wipes can make coping with an emergency easier. 
Getting help
ABA breastfeeding counsellors are able to offer assistance with breastfeeding information and as well as with cup-feeding breastmilk or infant formula. 
Those who are around mothers or caregivers of babies in an emergency can help to protect these little ones by assisting with other essential tasks so that the carers can focus on the needs of those babies.
Each state and territory provides information for parents on preparing for an emergency. Some states provide specific information about infant feeding.
By Dr Karleen Gribble, adviser to the Australian Breastfeeding Association (ABA) and member of the Infant and Young Child Feeding in Emergencies Core Group, ABA community educator and Adjunct Associate Professor, School of Nursing and Midwifery Western Sydney University.
© Australian Breastfeeding Association April 2022
References
Gribble K, Berry N 2011, Emergency preparedness for those who care for infants in developed country contexts. International Breastfeeding Journal 16(6):1–12.
Gribble, K., Peterson, M., & Brown, D. 2019, Emergency preparedness for infant and young child feeding in emergencies (IYCF-E): an Australian audit of emergency plans and guidance. BMC Public Health, 19(1),1278.
Williams HG 2006, 'And not a drop to drink': Why water is harmful for newborns. Breastfeeding Review 14(2):5–9.