Special offers in Tasmania
$25 cashback on personal membership. 
Simply join ABA then send your receipt for cashback to ABA TAS Branch

FREE Breastfeeding Education Live (BEL) webinar for members
Members book your BEL, then apply for $20 refund from your local group
Find your local group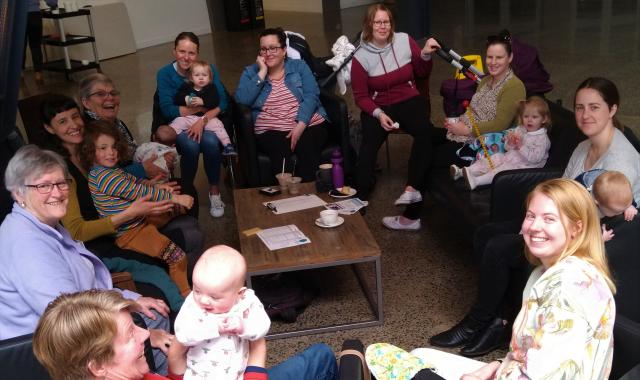 Local groups
Our Tasmanian ABA groups provide support for families at every stage - from pregnancy, through the early days and weeks, and as your baby grows.  Whether you are pregnant, have your first baby, or you are an experienced mum we are here for you with face-to-face meet-ups in many locations. Our online meet-ups are also available to you to join from home - scroll down to locate our current program of online discussions. All our meet-ups are facilitated by ABA Tasmania's qualified volunteers - mothers just like you – who have trained with Australia's peak breastfeeding organisation, and who offer skilled support and encouragement with breastfeeding and raising young children.  
Breastfeeding Education Live (BEL) webinar
In Tasmania ABA offers online Breastfeeding Education LIVE (BEL) webinars.  Learning about breastfeeding before the birth is important.  Our local groups offer new and existing members FREE Breastfeeding Education LIVE webinars from the comfort and safety of home.
Select a class date to suit you and receive more resources with an ABA membership.

Join, and register for a Breastfeeding Education LIVE session, then locate your new group and forward them proof of payment and your bank details for a $20 refund of the class cost. 
Membership
Tasmania Branch offers generous discounts on personal membership and breastfeeding education.  Currently we offer $25 cashback to all new members. Join for all the benefits – the guidebook Breastfeeding ... naturally, the quarterly magazine Essence, premium content on the mum2mum app, discount breast pump hire and more - then to claim the cashback offer, send proof of payment and bank details to tasbp@breastfeeding.asn.au. Offer ends 30 June 2023.
Check out ABA in Tasmania