Feeling unwell with a blocked duct or damaged nipples?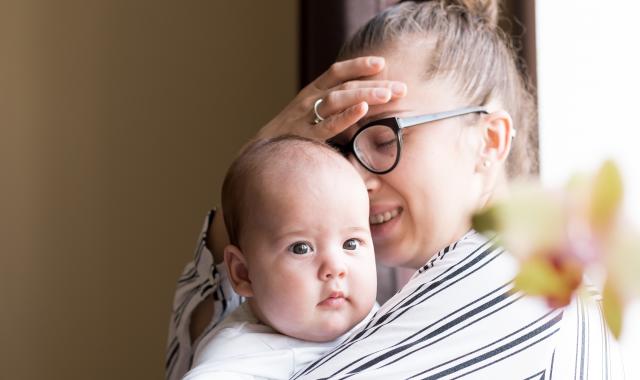 Mastitis is usually the result of a blocked milk duct that hasn't cleared. Some of the milk that has banked up behind the blocked duct is forced into nearby breast tissue, causing the tissue to become inflamed.
The inflammation is called mastitis. There may or may not be an infection. Sore, damaged nipples and over full, engorged breasts can lead to mastitis. 
Signs and symptoms of mastitis
You may feel as if you are getting the flu, with a temperature, the shivers and general body aches.  

Part of your breast may look red and swollen. The skin may be shiny with red streaks.   

Your breast may feel hot and painful.   
Sometimes mastitis can come on quickly. You may not have any early signs of a blocked duct and it seems to come 'out of the blue'. 
If you think you have mastitis, see your doctor as soon as possible. Mastitis which is left untreated may become a breast abscess.
Image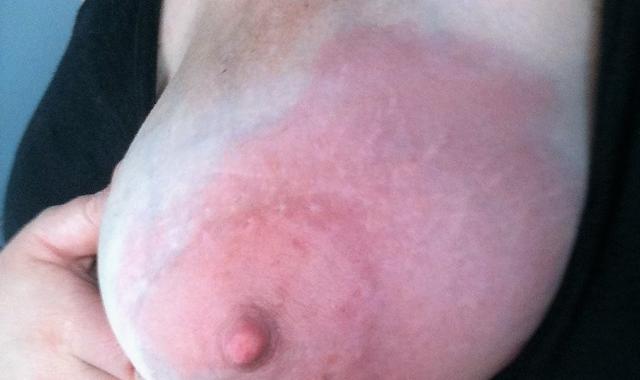 Preventing mastitis
Things to do: 
Breastfeed your baby frequently, as often as they want to feed.  

Help your baby to latch deeply and drain your breast well. 

Start each feed on alternate breasts. This makes sure at least one breast gets drained well at every feed. 

If your breast becomes uncomfortably full, you can wake your baby and offer a feed.   

If your baby is not interested in feeding, you can express a small amount for comfort only. 

You may be more likely to get mastitis if you are "run down". Resting, drinking to your thirst and eating nutritious foods may help. 

If you are weaning, try to do it gradually, reducing breastfeeds over several weeks. 
Things to avoid: 
Avoid unnecessary pumping if your baby is feeding well. 

Avoid rushing, missing or stretching out feeds. 

Avoid putting pressure on your breasts e.g. with clothing or with your fingers while feeding.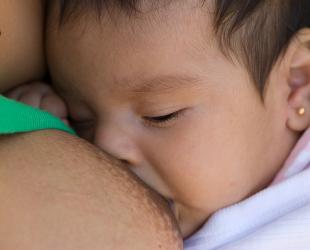 Drain your breast often but gently
This is not the time to wean. More than anything else, your breasts need to be drained as frequently as possible. Continuing to feed your baby is the most effective way to do this. Your milk is safe for your baby to drink but may taste saltier. This is not harmful but occasionally babies may refuse the breast for a short time. If this happens, there are ways you can encourage your baby to feed.  
Try to fit in some extra feeds for your baby. You may like to start on the sore breast for a few feeds to help drain it. Take care not to let the other breast become too full in case it causes a similar problem in that breast.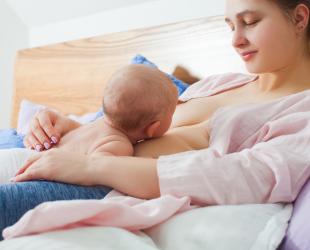 Help your milk to flow
To help the let-down reflex work and your milk flow more easily you can try some of these tips: 
Loosen your bra or take it off. 
Make a special effort to relax your arms, legs, back, shoulders and neck. 
Breathe deeply and evenly. 
Listen to soothing music.  
Hold your baby skin-to-skin to encourage them to attach well and your milk to flow. 
Gently massage your breast by stroking toward the nipple while your baby feeds. 
After feeds, if your breast still feels full, express to drain it enough that it feels more comfortable.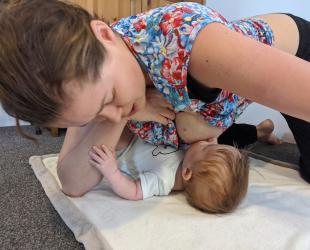 Try different feeding positions
Hold your baby in a way that helps your breast to drain:.
Lean over to let gravity help.
Try feeding with your baby's chin near the blocked section of your breast. This sometimes calls for creative positioning.
Feed your baby on all fours to allow your breasts to drain fully.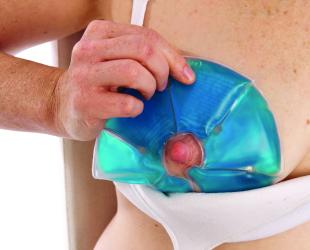 Apply warmth and cold
Use WARMTH just before a feed (for up to a few minutes) to help trigger your milk flow. This can help to clear any blockage and may relieve pain. 
Have a warm shower
Warm your breast with a heat pack (e.g. a wheat pack heated in the microwave), well-covered hot water bottle, warm hand towel or a face washer wrung out in hot water. 
Use COLD packs on the affected breast between feeds to reduce swelling and relieve pain. 
You can use any cold pack. 
One option is to soak and freeze breast pads or nappies then wrap and place on your breast.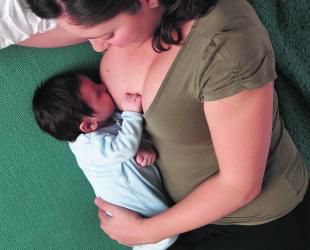 Rest, enough fluids and nutrition
When you have mastitis, it's important to:
Get as much rest as possible
Keep drinking (water is best) and eat well
Stay in bed if you can, or at least put your feet up for most of the day.
If you do go to bed, take your baby and everything you'll need with you - supplies for changing nappies, your own food and drinks etc - so you don't have to keep getting up. 
If you have other children, it may be easier to lie down in your living area.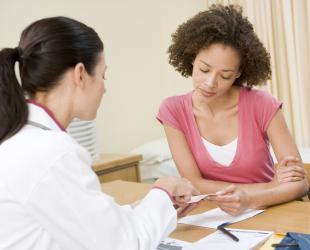 Seek medical help
You may need antibiotics and some pain relief.  
See a doctor if you don't start to feel better within 12-24 hours or straight away if you feel very unwell.  
If you are prescribed antibiotics, it is safe to continue to breastfeed and make sure you finish the course. 
Some mums may get a thrush infection after a course of antibiotics, so if you have had thrush in the past, discuss this with your doctor. 
If mastitis is not treated promptly, a breast abscess may form, although this isn't common. 
Early treatment will mean you get better faster and you will feel less ill. 
In the following video, Dr Lisa Amir, GP and certified lactation consultant, talks in detail about mastitis, what it is, how to prevent it and what to do if you have it. 
© Australian Breastfeeding Association April 2022
Read more about breast and nipple care